Digital Transceiver
Brand : LISHENG / YSHON / MOHANTON
Product origin : CHINA
Delivery time : 3-30 DAYS
Supply capacity : 30000 SETS/MONTH
LishengIP67 DMR Portable Radio DM-R89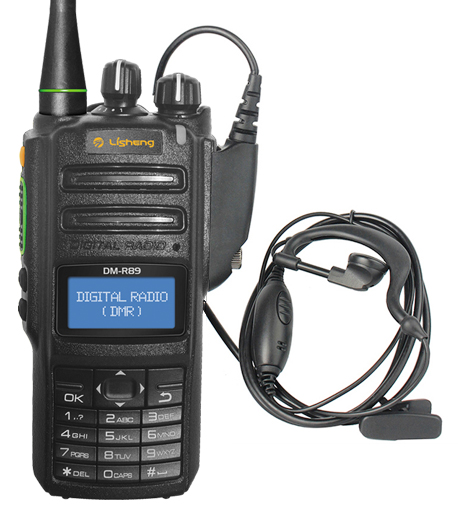 DM-R88 DM-R89
DMR True 2-Slot ● True IP67 Waterproof
DMRTrue 2-Slot
With this feature, the free slot can be allocated to a member that needs to communicate, effectively enhancing frequency efficiency and allowing you to communicate timely under emergency situations.
True IP67 Dustproof and Waterproof
Radio body sealed fully to deliver IP67 waterproof and dustproof, which using glues and silica gel 's seal ring in radio's speaker, knobs, PTT Key, chassis, microphone jack and screw hold, etc.
Higher Spectrum Efficiency, Higher Channel Capacity
Benefiting from the TDMA technology, DM-R88/R89 allow 2 channels based on the same spectrum resource at the same time. This is helpful to relieve the stress of increasing shortage in spectrum resource.
Digital voice makes your communication clearer and stable
With the advanced technology of narrowband voice coder and decoder and digital correction technology, either you are in the noisy environment or at the edge of communication coverage,DM-R88/R89 can always offer you a clear and stable voice quality.
Versatile Services
DM-R88/R89 has got rich data services and selectable functions such as Text Message, Scan, Emergency alarm, Man Down (optional), High-speed Data Transmission and Lone Worker, etc.
Dual Modes (Analog + Digital)
DM-R88/R89 can operate in either analog or digital mode. It is compatible with the prevalent analog system, ensuring a smooth analog-to-digital transition.
Longer Battery Duration, Longer Working Time
Compared with analog radio, DM-R88/R89 can enhance more than 40% working time.
Certification
DM-R88/R89 have passedDMR IOP test by lab, which means it can compatible with Motorola or HYTERA DMR radios completely. With CE and FCC certification, DM-R88/R89 have been sold to many European and America countries and get a pretty good reputation from our customers and users.
Functions and Features:
* 32 Channels / 2 Zones
* Short Messages
*Keypad Operations
*Alone Work
*Private/Group/All Call
*Talk Around
*Privacy Talk
*VOX
*Programmable Side Key
*Squelch Tail Elimination
*Scan
*Priority Scan
*Kinds of Alert Tone
*Voice Announcement
*DTMF
*Dual Mode: Digital/Analog
*Vocoder Type: AMBE+2TM
*IP67 Waterproof
*2000mAh Li-Poly Battery
*Repeater Mode
*Radio Enable/Disable
*Recording (Optional)
*Direct Mode (True 2-slot)
IP67 Waterproof Structures
Vacuum Hole for radio chassis and battery: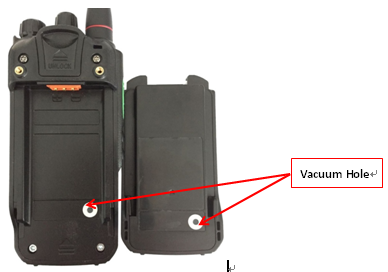 Battery Terminal for IP67 Waterproof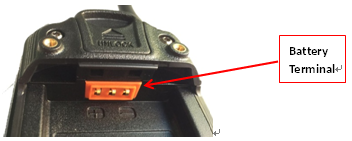 Pin-type Earphone-Microphone Jack for IP67 Waterproof
It needs Pin-type waterproof earphone or microphone.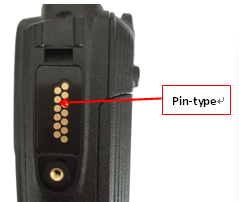 Specification
General

Frequency Range

136-174MHz / 400-470MHz/450-520MHz

Channel Capacity

DM-R89 : 1000

DR-R88: 32

Zone Capacity (16 channels per zone)

DM-R89 : 256

DR-R88: 2

Channel Spacing

12.5KHz / 25KHz

Working Voltage

7.4V Rated

Frequency Stability

±1.5 ppm

Antenna Impedance

50Ω

Dimension (H*W*D)

137 x 61 x 40mm

Weight

About 260g (with battery, antenna, belt clip)

Transmitter

Output Power

4W/5W/1W

FM Modulation

11KΦF3E @ 12.5 kHz;

16KΦF3E @ 25 kHz

4FSK Digital Modulation

12.5kHz (Data only): 7K6φFXD

12.5kHz (Data & Voice): 7K6φFXD

TX Spurious Emission

-36dBm@<1GHz; -30dBm@﹤1GHz

Modulation Limiting

±2.5kHz @ 12.5 kHz; ±5.0kHz @ 25 kHz

FM Hum & Noise

40dB @ 12.5 kHz; 45dB @ 25 kHz

Adjacent Channel Power

60dB @ 12.5 kHz; 70dB @ 25 kHz

Audio Response

+1~-3dB

Audio Distortion

﹤3%

Digital Protocol

ETSI TS 102 361-1, -2, -3

Digital Vocoder Type

AMBE+2™

Receiver

Sensitivity (Analog)

0.2μV (12dB SINAD) / 0.3μV (20dB SINAD)

Sensitivity (Digital)

0.3μV /BER 5%

Selectivity

TIA-603: 60dB @ 12.5kHz ; 70dB @ 25kHz

ETSI: 60dB @ 12.5kHz ; 70dB @ 25kHz

Intermodulation

TIA-603: 70dB @ 12.5KHz / 25 KHz z
ETSI: 65dB @ 12.5KHz / 25 KHz

Spurious Response Rejection

TIA-603: 70dB @ 12.5KHz/25 KHz
ETSI: 70dB @ 12.5KHz/25 KHz

Block

TIA-603: 80dB; ETSI: 84dB

RX Spurious Emission

﹤-57dBm

Audio Power Output

1W

Audio Response

+1~-3dB

Audio Distortion

≤3%
Please feel free to give your inquiry in the form below.